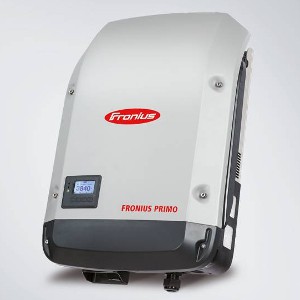 Fronius Primo 3.0kW single & dual MPPT inverter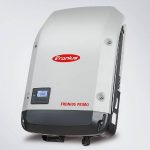 Fronius Primo 3.0kW single & dual MPPT inverter
£909.99 – £999.99
£909.99 – £999.99
"What's the difference between the Light and WLAN models?"
They are the same inverter but the WLAN model has a communications upgrade card which allows wired or wireless internet monitoring.

"What about warranties?"
Your warranty is not affected in any way by DIY installation. Fronius have UK based support and dispatch replacement inverters from UK stock. In the event that you believe there to be a fault we will assist you with the diagnosis. We may ask you to do some simple electrical tests as part of the process and if the inverter is at fault we will initiate a warranty claim with Fronius.
"Do these prices include VAT and delivery?"
All our prices are fully inclusive of VAT and delivery to most of the UK. For Highlands and non-mainland, supplements apply which will automatically update during checkout.
"Can I really fit my own inverter?"
It's a straightforward task for a competent DIYer. Click here for our guide.
"Should I buy a higher powered inverter so that it will last longer?"
Somewhat counter-intuitively, inverters should be slightly undersized to the solar panels to get the best yields. You can read more about this here.
Additional information
| | |
| --- | --- |
| Model | Light (no communication), WLAN (ethernet and WiFi) |
Please note that this inverter is hardwired on both the a.c. side and the d.c. side. We therefore recommend that it is installed by an electrically competent person.
The Fronius Primo in power categories from 3.0 to 8.2 kW perfectly completes the new SnapINverter generation. This single-phase, transformerless device is the ideal inverter for private households. Its innovative SuperFlex Design provides maximum flexibility in system design, while the SnapINverter mounting system makes installation and maintenance easier than ever before. The Light version does not include monitoring. The communication package with WLAN, energy management, several interfaces and much more besides, makes the Fronius Primo a communicative inverter for owner-occupiers (please select from options above).
Specifications:
Maximum efficiency of 97.9%
Startup Voltage: 80V
Max DC Voltage: 1000V
Max input current: 12A
Dimensions: 645 x 431 x 204 mm
Weight: 21.5kg
Warranty: 2 years, increasing to 7 years once registered (full details here)
Warranty registration instructions