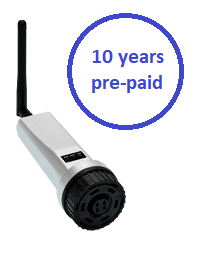 Solis GPRS 10 year pre-paid UK & rest of Europe roaming data logging stick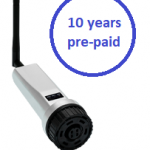 Solis GPRS 10 year pre-paid UK & rest of Europe roaming data logging stick
£195.00
£195.00
Description
Additional information
Reviews (2)
Description
Installer? Check out our packs of five sticks and packs of ten.
The Solis data logger is a very clever, simple, external plug-in device which plugs into the COM port of any Solis inverter. It provides a simple to install monitoring solution for end customers with access to web, iPhone and Android app monitoring. In addition, in the event of a detected fault, the system will email the end user for minimal downtime.
This product provides a user friendly, easily accessible solution to inverter monitoring.
This model comes a pre-paid SIM card already installed which has sufficient data loaded to provide ten years of use throughout Europe with no additional charges. The SIM can join any network and will select the strongest available. Simply connect the data logger to the COM port of the inverter and scan the QR code using the Solis Cloud app.
These data sticks are ideal for installers and end users alike because they operate independently of the on-site network and even work in the middle of nowhere! If your phone can find a working mobile network then this data stick will. Installers no longer need to endure the customer who's changed their Wi-Fi password but doesn't know what to, nor take the phone call from the customer that has a new router and wants you to call round to re-attach their PV system to the Internet!
Note: Please do not remove the SIM card. The SIM card is locked to the IMEI number of the data logger and cannot be used in other devices.
For your convenience the logger is shipped fully configured but if you find that it does not appear online in the Solis Cloud app within one hour then please email us with the data stick serial number and request activation. This will be done within 24 hours but usually much quicker.
Please be advised that we purchase the SIM cards for these sticks in small quantities. Our present stock level is shown under the product price above. You may still place an order if we're awaiting stock and we will send it as soon as possible (usually within a week).
For non-UK orders please contact us with your requirements and state your full address for a quotation including tracked carriage.
---
Only logged in customers who have purchased this product may leave a review.