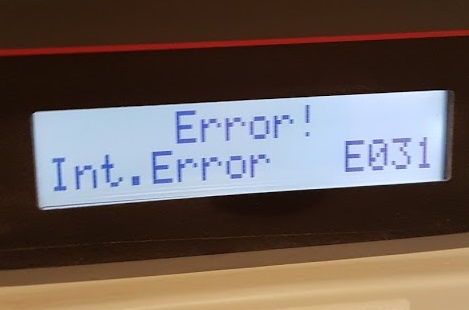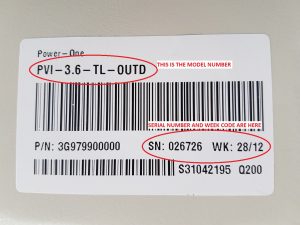 If your Power One or ABB inverter is displaying the message "Error! Int.Error E031" as shown in the first photograph, then it has suffered an internal error due to a hardware failure.
Before you contact us, you need to find out if the inverter is still under warranty. These inverters were sent out from the factory with a five year warranty but some installers extended the warranty to ten years.
Nobody ever reads this bit: Your inverter warranty is not the same thing as your installation warranty, therefore you should always phone ABB to query your warranty even if your original installer has ceased trading.
Inverters that may be within their warranty period – try the manufacturer first!
If your inverter is still within warranty, or if you aren't sure, then please contact the manufacturer first. ABB sold their solar inverter business to Fimer Spa in March 2020. Their website is https://www.fimer.com/
They will require the serial number and week code, which is printed on a label on the right hand side of the inverter (as in the second photograph).
Inverters out of warranty – we can help, or you can do it yourself:
We can offer a full replacement service for your failed inverter, or if you're OK with a screwdriver then with a bit of common sense there's nothing stopping you from doing it yourself.
The Solis range of inverters (below) have identical connectors for the d.c. strings (the four black sockets on the bottom of the inverter). The plugs are removed by pinching the locking tabs and withdrawing them. The a.c. mains connection to your inverter is currently hardwired, you need to remove the lower cover and disconnect it.
All our inverters come with an a.c. plug. On the Solis models this is fitted using a Pozidrive no 1 screwdriver. That's the electrical work done, now it's a simple matter of taking the old inverter off the wall, changing the wall bracket, hanging the new inverter on its bracket, plug it in and switch on. There's NO need to notify your FIT provider or anyone else when changing an inverter.
We offer excellent replacement inverters in our online shop:
A great replacement for the PVI-3.0OUTD with one string connected is a Solis 3.0 S6 mini. For two-string systems you need a Solis 3.0 S6 dual MPPT. To replace a PVI-3.6OUTD we recommend a Solis 3.6 S6 dual MPPT. All of these are available in our online shop to the right.
Call us if you're unsure which inverter you require and we'll cheerfully guide you through. If you purchase an inverter from us to install yourself we'll happily talk you through the installation.