Many companies sell solar panel systems these days, from electrical contractors like ourselves, to double glazing companies, high street stores, supermarkets and a certain Swedish furniture firm. Many of these don't get involved in the details and instead subcontract it to another company and just take a commission.
Using any of these companies should result in a working solar PV system, and by far the majority of online reviews simply say something along the lines of "Xyz solar fitted our panels and they've earned us £xx.xx in the past six months".
All this means is that the sun has been shining and their system has been producing something, but can they be sure that their PV system has been properly designed to harvest the maximum amount of electricity, and that it's designed to last for decades?
Many companies proudly state that they are approved by a particular manufacturer, and that they only use their products. Manufacturer approvals are a good thing, but exclusive use of a single manufacturer's products means that their systems are designed around product availability rather than the best suited materials to the job in question.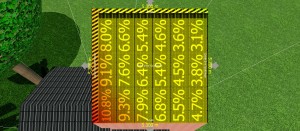 Shading
Few companies will send a qualified person to survey a proposed installation site properly, instead choosing their staff based on their ability to sell. Many will understate or completely ignore the effects of shading, using lies, omission and half-truths such as "solar panels only require daylight, not direct light". Any owner of a solar PV system will tell you that their system performs best on a sunny day.
Just because a roof gets sunshine all day long in June, it isn't necessarily so in and around the winter months when the sun is much lower in the sky. We use our industry-leading PVSOL software to model the effects of shading due to surrounding trees, buildings and other features.
It may be beneficial to opt for a smaller PV system than to install panels where they would be excessively shaded, or to choose a shade management system such as SolarEdge to mitigate the effects of shading.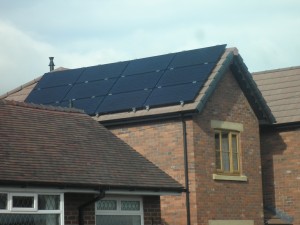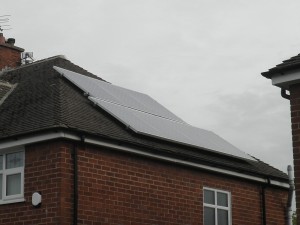 Wind loading
We in Britain have some of the windiest conditions in Europe, so another fundamental design consideration is the effect of wind loading. Roof mounted solar arrays that are too close to the ridge or the verges (side edges) of the roof will be subjected to excessive wind loading, which can result in catastrophic damage to the roof.
Designers of on-roof systems should not propose arrays that are too close to the edges of the roof, or they should choose an alternative mounting system that mitigates the effect of wind uplift.
Where the largest possible array is desired, higher performance panels could be used to get the most out of each square metre of space.
Aesthetics
Another important consideration is the kerb appeal of the system. There's little point in making a long-term investment like this if it makes your house look ugly. Nobody makes invisible solar panels, but our roof integrated systems blend in much more effectively than systems using brackets and rails. Many panels are available with black frames and backing sheets, which helps keep their visual impact to a minimum.